Recipes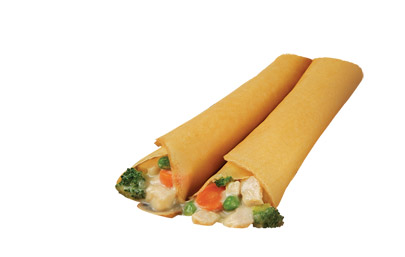 Recipes by Michel de France
Crêpes

Chicken Vegetable Crêpes
Egg & Cheese Crêpes
Very Berry Crêpes

Paillette Feuilletine

Soy Wraps

Chicken Vegetable Crêpes

10 Michel de France Crêpes
1/2 cup chopped onion
1 cup sliced mushrooms
3 tablespoons butter
2 tablespoons flour
1 cup milk
2 cups cooked chicken, coarsely chopped
1/2 cup each sliced carrots, peas, and chopped broccoli
Fresh parsley for garnish

Sauté the onions and mushrooms in the butter. Stir in the flour and then the milk to make the sauce. Add chicken and remaining vegetables and simmer for 5 minutes until sauce is thickened. Spoon mixture evenly down the center of each crêpe. Fold one side of crêpe over top and roll it up. In a microwave, heat filled crêpes on high for 30 seconds. Makes 5 servings.