Norigami Gluten Free Pea Wraps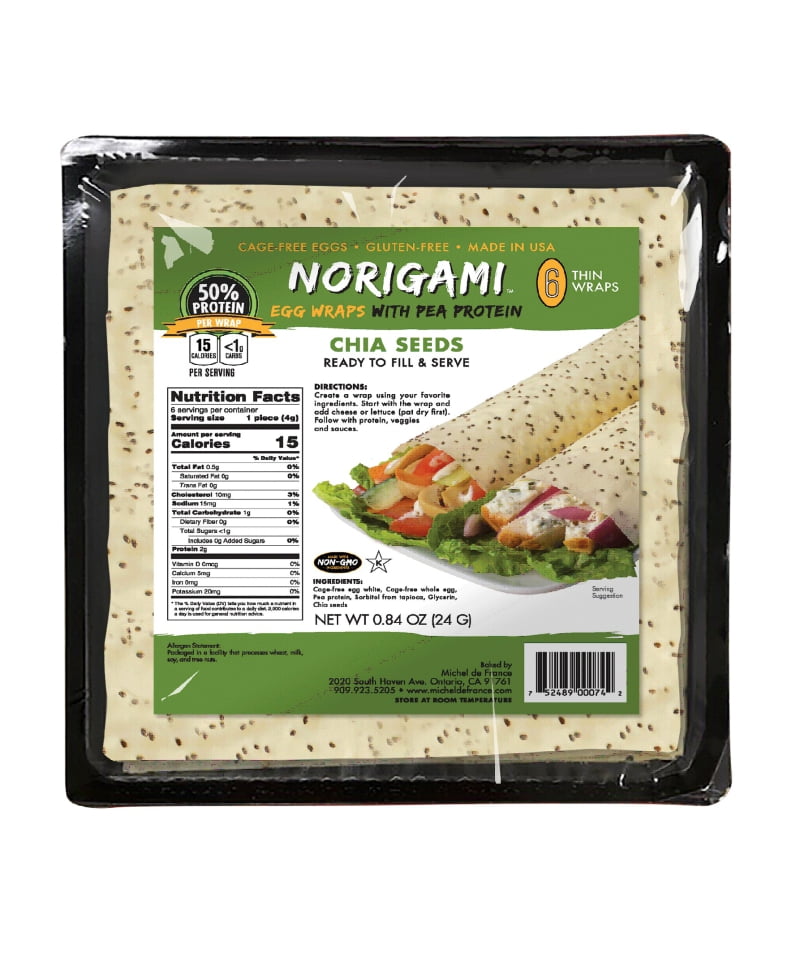 Press Release
April 2nd, 2018
Michel de France is introducing two new flavors to its Norigami™ Gluten Free Wraps.
Michel de France is proud to announce the launch of two new Non-GMO Gluten Free Wraps, sold under NORIGAMI trade mark. These new flavors have been developed using Pea Protein combined with Chia seeds or Sesame Seeds. As Vice-President Erwan Le Bayon explains: "Our initial line of Norigami Gluten Free wraps are made with Non-GMO Soy Protein combined with Chili flakes, Poppy Seeds or Sesame seeds. We are very pleased with consumers reaction to such an innovative product line. This year we wanted to bring a new protein and Pea Protein gave great results. The Pea Protein wrap is thin and strong and the addition of Chia Seeds or Sesame Seeds creates great flavor profiles."
Norigami™ Gluten Free Wraps are made of five simple Non-GMO ingredients: Eggs, Soy or Pea Protein, Agave, Glycerin and seeds.
Norigami™ Gluten Free wraps are a great alternative to bread or tortilla. These thin healthy wraps are low in calories and carbs and rich in protein. Use them for breakfast, lunch or as a fitness snack. Ready to eat; just fill them with your favorite ingredients. They make a great dessert, filled with peanut butter, chocolate spread or fruits. Let your creativity flows, there are endless possibilities. With less than 1g of sugar and very little calories (less than 20 per serving) don't feel bad enjoying them for all your meals and your kids' snacks. They will thank you later!
Norigami™ Gluten Free wraps are shelf stable one year. Make sure to always have some in your kitchen! You will always have a healthy grab and go option on hand and you won't have to buy junk food on your way to work anymore.
Distribution is handled by DPI and UNFI.
For more information contact Erwan Le Bayon – Erwan@micheldefrance.com