Mille Crepes Cake Whipped Cream Lemon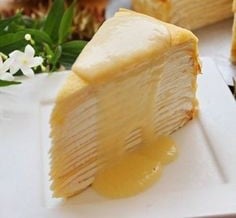 Enjoy this delicious Mille Crepes Cake. You will impress friends and family, even yourself with this very easy to make recipe. The hard work is already done using Michel de France pre-made Classic Crepes. All you have to do is mix the Lemon Cream, the whipped cream (or use a can) and assemble the layered crepes cake. Michel de France Classic Crepes are light and thin and blend perfectly with the whipped cream creating a texture close to a sponge cake. Follow the recipe and the pleasure is minutes away.
Whipped Cream – Lemon Mille Crepes Cake
Lemon Cream
Fresh Lemon Juice 5oz
Sugar 5oz
Whole Eggs 5
Egg Yolks 5
Butter Unsalted 4oz
Whipped Cream
Heavy Cream(40%) 24oz
Sugar 1.25oz
1 teaspoon pure vanilla extract
Crêpes
20 Michel De France Crêpes
Directions
Lemon Cream
Beat together fresh lemon juice, sugar, whole egg and egg yolk with a mixer on medium-high speed. Transfer mixture to a small saucepan, and cook, stirring constantly, over medium heat. Add the butter. When thick enough to coat the back of a wooden spoon, transfer to a bowl. Cover the surface and let cool in the refrigerator.
Whipped Cream:
Put heavy cream (40%), vanilla, and sugar in the bowl of an electric mixer fitted with the whisk attachment and beat until soft peaks begin to form. Cover and refrigerate.
Assembly:
Place 1 crepe in the center of a plate. Spread evenly whipped cream over crepe. Repeat layering with remaining crepes, ending with the last crepe. Spoon lemon cream on top of cake, and carefully spread across top and sides. Refrigerate until serving.